Wow, we've been busy. Knee Jerk is making its way through the review world, with a majority of great results so far. My favorite quote to date is from Board Game Corner: "I think you have a hit on your hands here." We've been prepping a lot of content for the Kickstarter page: the project video, reward tiers, shipping prices, stretch goals, press/testimonials/reviews, etc.
In the background we're working on our next board game, Potion Motion (working title), a tactical match-three puzzler. It's far along in development already, but we'll likely wait until after the Knee Jerk Kickstarter to release further information on it. We don't want to take away from Knee Jerk's spotlight, and we want to make sure we can deliver Knee Jerk successfully.
Yesterday I got back from Gen Con. The giant tabletop convention grew even more this year, projected to have more than last year's 49,000 attendees. The exhibit hall was gigantic, yet still crowded. I spent my time demoing Knee Jerk, playtesting Potion Motion, and talking shop with other self-publishers. Since we printed our (awesome) Knee Jerk prototypes with The Game Crafter, they were generous to give us a 4-hour block at their booth to demo it to con attendees. Most players laughed out loud a minute after sitting down. Many players wanted to buy it on the spot, which is a great sign for the Kickstarter!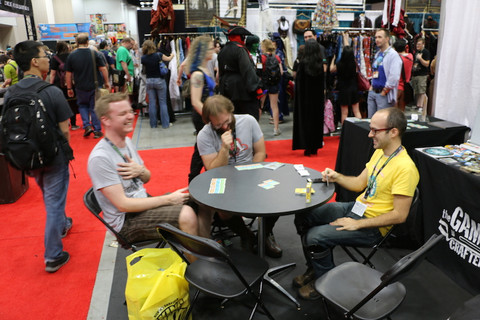 On the Potion Motion end, we spent 10 hours playtesting the game at the First Exposure Playtest Hall. This is a valuable, well-run event hall that lets designers run playtests on players of specified demographics. Potion Motion was consistently well received, with playtesters digging the combination of simple rules and deep gameplay. Every single person who played the game really liked it!
I promised myself I'd keep this post short and sweet. The ramp up to our September 16th Knee Jerk Kickstarter is well underway, so I'm sure you'll hear more from us soon!